Sowing the seeds of success
Having worked for designer Tom Ford for almost 20 years, entrepreneur Whitney Bromberg-Hawkings knows a thing or two about style.
Both she and business partner Adam Wilkie were working in the fashion world and noticed that there was often a "really bad surprise element when sending flowers. I would send flowers on behalf of Tom and say I needed white roses, then I'd see a picture on Instagram of hot pink roses, which, while they are beautiful, is not what I was looking to send."
According to Bromberg-Hawkings, every chic person from Karl and Calvin to Riccardo and Miuccia, send only big bunches of single-variety flowers, such as peonies, roses or calla lillies.
Aside from simple aesthetics, this floral style is also for practical reasons. "In certain mixed bouquets, the roses would be just blooming while the more delicate flowers would be on their way out. Foliage, eucalyptus or baby's breath, for instance, can all die at different rates."
As a working mother, Bromberg-Hawkings also explains the gap she saw in the market when she was driving all the way to Covent Garden flower market just to fill up her car with flowers for a dinner party. "I didn't want to pay the Chelsea flower stand prices, which were cost prohibitive. As a working mum, I ordered everything in my life on Ocado or Amazon, so having to drive to the market and back before work for flowers was ridiculous."
The idea bloomed and the seedling of Flowerbx, the online flower delivery brand, soon sprang to life. However, she says the decision to leave Tom Ford was "very emotional – I was so happy working for him that I could have stayed for the rest of my life, but I knew the business idea was right and I'd also just had my third child, so it was the right timing to go for it."
Flowerbx cuts out the middleman by delivering direct from the grower in Holland, to a client in say Mayfair or St James's, making Flowerbx's offering more than just better value than rival delivery or subscription firms.
"Normally, how it works is that flowers go from Holland to the Covent Garden flower market and then sit around for two or three days until they're sold to a florist. Then the florist will arrange and sell them, so by that point the flowers are six days into their lifespan. So not only are we cutting out the mark-up, but also the flowers we are offering are up to a week more fresh" she says.
Besides delivering either one-off bouquets or regular floral subscriptions – single-variety only, of course – Flowerbx has also branched out into events and commercial partnerships.
"What I really hope to be able to fulfil is every single floral need. We're lucky that we do all Dior's gifting and we use their adorable, chic Dior bags and we also do Bottega Veneta and have worked with Harrods, DeBeers and other really great brands."
The business model is clearly working; the company's latest funding round not only closed at £1.5 million, but was also oversubscribed. Modestly, Bromberg-Hawkings says she was fortunate to have "very smart and strategic friends", like Natalie Massenet, keen to invest. She also reveals that former Net-a-Porter CEO Mark Sebba has just joined the board as chairman. "I'm very grateful that everyone jumped on board and supported us from the beginning."
But as well as behind the scenes, Bromberg-Hawkings has recently worked with another great pal – designer Emilia Wickstead – on the stunning floral display outside Scott's restaurant around Chelsea Flower Show. "We were thrilled to have done it with Emilia as a brand collaboration. She's one of my best friends so it was so much fun working with her."
In terms of expanding the brand, Bromberg-Hawkings reports Flowerbx is opening in France, Germany and hopefully Italy soon. She says the Middle East "100 per cent needs what we do, because flowers are inaccessible there", and also that they would love to crack America but "that is a different business model because here we can leverage our relationship in Holland for every country. But Europe and the Middle East should keep us quite busy!"
It must be hard balancing a growing brand with three young children? "My kids are my number one priority – they come before anything. That said, I work all night and weekends. I'm working much harder than I've worked in my life after starting the company, but I'm also so excited by what I do and I want my kids to have a fierce mum."
I would say fierce and fabulous is a better description.
For more information go to flowerbx.com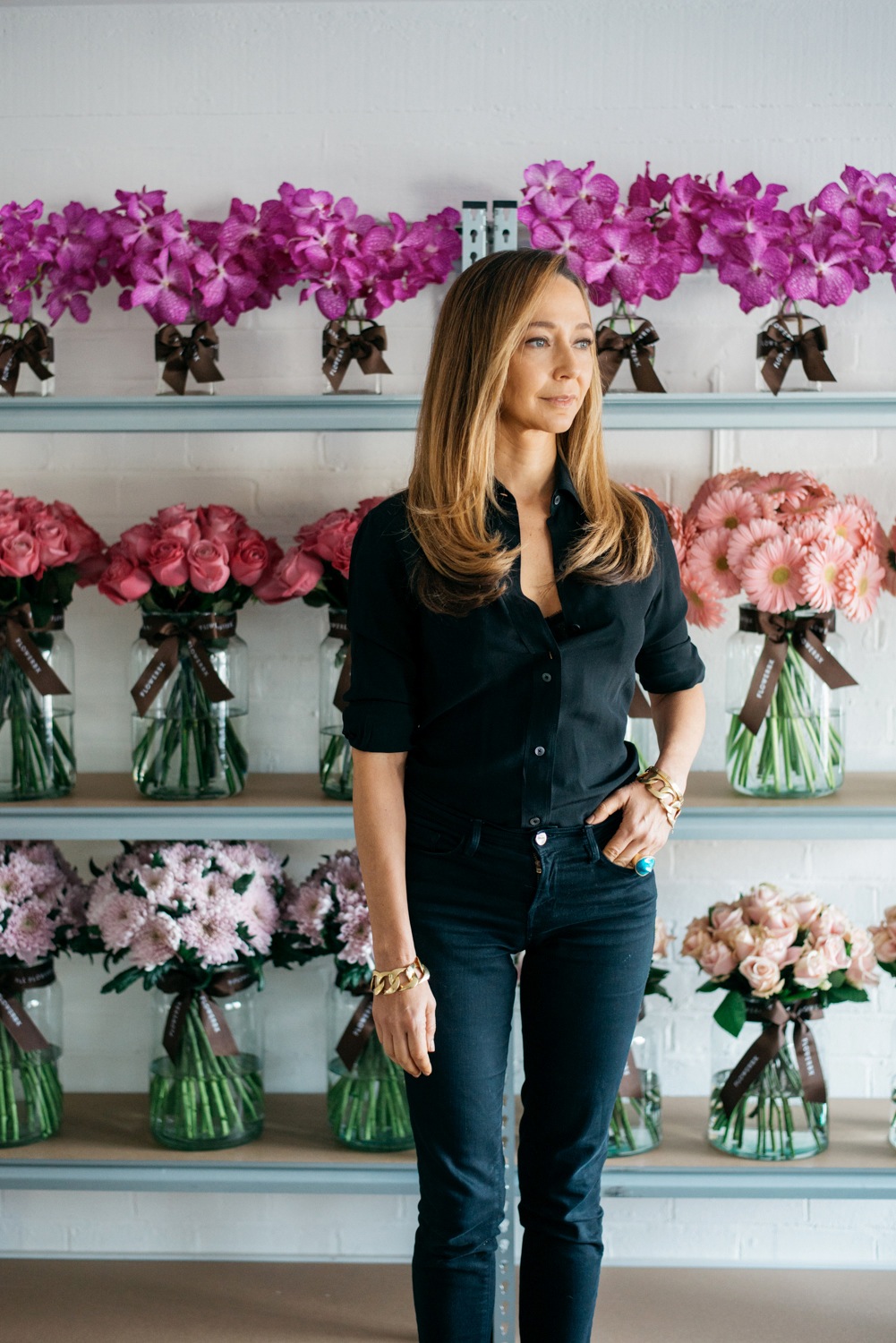 Whitney Bromberg-Hawkings