Marylebone's New Man
We manage to grab five minutes with the extremely busy new chief executive of Marylebone's Howard de Walden Estate, and ask him about his plans for the area
Brexit, property price uncertainty, air quality worries, Oxford Street pedestrianisation discussions, Crossrail preparations, Harley Street developments, and then even after our interview, Andrew Hynard was met with the prospect of a hung parliament.
There's a lot to contend with for the new chief executive of Marylebone's Howard de Walden Estate (HDWE). But he is confident in the historic landlord's long term view.
"Yeah there's a hell of a lot!" he agrees, smiling, "which itself is very stimulating, the one thing now is you can take nothing for granted and expect the unexpected."
He admits that of course, amid such uncertainty, the economy and London will be flatter, but stresses that "our long term outlook means we can invest throughout the cycles, it stands us in pretty good stead, but we are not complacent."
It might have been a surprise to some, to see the new chief executive of HDWE, which owns most of the buildings in 92 acres of Marylebone, was Hynard. He had been at Jones Lang LaSalle (JLL) for more than 30 years.
"The transition from advisor to client wasn't as big as one might have expected," he tells me from HDWE headquarters on Queen Anne Street. "I think looking back it was because I had got to a senior position and had very close relationships with my clients that I had almost morphed into a client. The only difference is that I am making the decisions here, with the benefit of a brilliant team."
Hynard joined HDWE last October, after former head Toby Shannon hung up his hat, but knew he had the role six months prior. He admits he was "chomping at the bit" to start.
"That period few months was a very useful transitional time of getting my head around it and inevitably people talking to me so by the time I landed in October I had a much better familiarity. It is everything that I had expected, except the good bits are even better,"
"From the moment I knew I was coming I had my day book, and every time a bright idea came I would just jot it down. Then you arrive and come to the reality and either people have already thought about it, which they have nine times out of ten, or there are very good reasons as to why they hadn't done them. So I had to temper my enthusiasm and ideas with what's gone before. The challenge is to hold those ideas and themes, keep them in your mind and introduce them or not, as appropriate."
The very nature of the estate means there isn't much scope for large or new developments. But Hynard and his team are constantly reviewing buildings, as well as investing off the estate.
"We bought 7-10 Chandos Street last year which was a chance to expand the reach. What that gives us, it's currently an office building, is a decent-sized building that gives us lots of options. We might further extend or improve that as an office or another use. That is an example of us buying a strategic holding very close to the estate and having a decent footprint," Hynard explains.
Another big project HDWE has just finished it 66 Wigmore Street, which has been let to Schön Klinik, a family owned German hospital group, adding to the roster of world class medical tenants on and around Harley Street.
"What we like about medical is that it's obviously a world-famous location, we get fantastic operators in terms of the brands whether it's the King Edward VII Hospital or The London Clinic or HCA. It's pretty defensible income because everybody unfortunately, especially as we get older and live longer, needs to use good medical support. The covenance is good and they take long leases because they're investing so much in their buildings."
The Middle East is an important market here, bringing patients and their families to the area to stay in Marylebone's hotels, eat in the restaurants and add to the London economy.
"We've particularly gone out to Dubai for Arab Health, and we've found, it's a bit like private schools, the brand quality of British medicine is held very highly, it's very strong. It's a natural ground for us to promote to and bringing patients over," says Hynard.
Medical may bring the highest rental income, but it is residential that has the largest share of the estate, with 750 units worth £1.2 billion of the £4 billion portfolio.
"The community here is really important for us, so things like the summer fair we have is good both for the local residents but also for visitors," Hynard says.
Residential is one area where HDWE has seen an impact from Brexit.
"Analysing our residential tenants, a lot of them are young professionals who may be in London or may be international, typically European or North American, who will be working in the financial sector, love living here and work in the city or Canary Wharf, and we've noticed over the last few years that the lettings have gone from directly to the banks or to the employers, into the individual's names," Hynard reveals. "There has definitely been a tick down of the amount of international individuals who work in the financial sector, and I think that is probably a consequence of the uncertainty around the employment of foreign nationals in the UK."
On offices, another large share of the estate, Hynard is keen to provide a "far more flexible offer."
"Somewhere that's adaptable, flexible offices, flexible terms. There is a greater need for individuality, people like to stamp their own mark on their buildings, cool buildings," says Hynard. "We can get as strong rents for a stripped-back, bare, exposed surfaces building, as opposed to a fancy raised floors, air conditioned and everything else, so it makes sense."
Aside from Harley Street, the second draw of Marylebone is its shopping, with Marylebone High Street's quirky mix of independent and luxury retailers bringing visitors from far and wide.
"We recognise it's important to get the right mix," says Hynard, who is focusing on introducing pop-up shops to test new retailers, "particularly for those locations which may be effected in the short term by pedestrianisation works in Marylebone Lane, for example."
"Our retailers have been burned by rents going up dramatically, the rates revaluation, then they're facing a weak pound so expensive imports and wage costs which are going up with inflation, so we're very sensitive to that," he adds.
Hynard rattles through his current to do list, including several buildings that are being developed for medical or office use on Queen Anne Street; a major letting on Welbeck Street; working with Westminster to improve the public realm around Marylebone Lane – vital for when Crossrail brings in three times as many visitors by 2026; discussion the pedestrianisation of Oxford Street with key stakeholders; and working with major providers to install fibre broadband across the estate.
How would Hynard like people to view Marylebone? "Attractive, quality, enduring, familiar and invested," he says.
"It's a hub, has it's own identity. We want people to live, work and play here to be proud."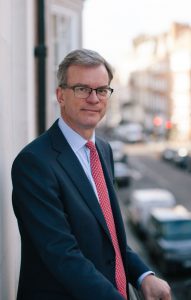 Andrew Hynard