Ladies' Man
Womenswear designer Elie Saab opens up about his roots in Beirut, his inspirations, and why Bruton Street was the perfect spot for a London outpost
You have dressed everyone from royalty to actresses and more – do you have a particular woman in mind when designing?
There isn't one muse only; I am inspired by all types of women, regardless of their age, shape or style. However, my wife, Claudine, has always been to me a great source of inspiration.
Have the women you have previously dressed shaped the way you design?
"Any woman from any part of the world wants to look beautiful, elegant and feminine. My priority is to design a dress that highlights a woman's figure at best. My style is a combination of elegant and glamorous silhouettes, the right cut and feminine details.
Your pieces are very flattering, with sleeves often incorporated in the design, is this something you consciously consider?
I believe it is about my vision of women and how I see femininity. Actually, I present what women need with the appropriate embellishment. This is actually an impression to reflect elegance and allure.
You're renowned for your spectacular gowns; do you approach ready-to-wear in the same way?
All of my designs share the same codes and DNA of the brand. When I design, I am like an architect. My fashion aesthetic leans towards very feminine, graceful silhouettes that bring out a woman's natural beauty. I study woman's curves and I am very keen about details; my dresses have structured cuts, every centimetre matters because it can change the whole look of the dress. Haute Couture and Ready to wear have different field of expertise. The first offers unique and exclusive pieces that are hand embroidered, while ready to wear offers more daywear and streamlined silhouettes.
You began designing at a very young age, and taught yourself, what's the main thing you have learned? Is there an aspect of your design you had then that you still use?
I learnt patience which helped me develop the ability to think in a more analytical way, to look into the bigger picture and to study all steps thoroughly before taking any strategic decision.
My designs have evolved season after season to reach a wider clientele but I maintained offering the same flattering product to highlight women's beauty.
Your stores are very focused on the comfortable customer experience, beautiful fabrics, taking time – how does the digital age fit into the Saab aesthetic?
We have always aimed to offer the client a very special and exclusive service when entering our boutiques and this will remain our trademark. I believe that clients will always want to enter a store for choosing an evening gown to feel the experience of the brand. Yet, we developed a large range of products such as separates in ready to wear, accessories and perfume that can be suitable for online market.
You opened your atelier in 1982 in Beirut – how much as the city changed since then?
A lot…. I opened my atelier in the midst of the war; nothing was easily accessible. Today, Beirut regained its energy; a lot of happenings are taking place making the city again vibrant and booming. It has always been my dream to see Beirut again the Fashion Hub of the Middle East and I will never stop working on this aspect to make it happen.
How has Lebanon's fashion/couture scene developed?
Beirut has always been known to be the city of beauty and fashion and we had very good tailors sought after. Today, I feel so proud of having created a profession which didn't exist in my country before and has opened the door for other talents to follow my footsteps. I feel a big responsibility by contributing in putting Lebanon on the international fashion map.
I have also joined my forces with academic leaders, the Lebanese American University and the London College of Fashion, in the launch of a Bachelor Degree in Fashion Design. Today I am filled with joy to see the first graduates holding this world class degree. I am partnering as well with media pioneers MBC on Project Runway ME for the second season in a raw aiming to nurture and inspire the next generation of young talents.
What are you memories of growing up there?
My childhood and teenage years were certainly tough, growing up in war-torn country but the strength and determination of the Lebanese has also encouraged me to pursue my dreams. We all grew up in a country where everything was constantly destroyed but this hasn't prevented Beirut to remain the rival of European capitals. It is translated by the strong will of the Lebanese and their high perseverance to always maintain the best despite all the difficulties they might face. This has reinforced my conviction over the years that nothing could stop me from my destiny.
How important has your heritage and upbringing been in setting your path?
Lebanon is not only the country where I was born and where I grew up, but also the launchpad for my career. I have been working for over 30 years and many of my employees are by my side since the first day. Their combined savoir faire is priceless. I have a responsibility toward them and toward my country to reflect a positive image. I am very proud to represent my country as well as the Region in both a creative and business sense. The journey was very challenging and I am very grateful to the people who believed in my work. Lebanon's richness of culture has also been a great source of inspiration for me.
What do you do to relax?
Spending as much time as possible with my family is my best way to unwind.
You opened your store on Bruton Street last year, why did you feel 2016 was the right time to open in London?
We always wanted to reinforce our growing presence in London and we have been looking for a strategic location for the past 2 years. The four storey building in Bruton Street represents the perfect setting for the brand universe.
What can people expect when they go to the store?
A unique and exclusive experience of the full range of the brand's creations and services: ELIE SAAB ready-to-wear, accessories, bridal and fragrances and a dedicated floor to the Haute Couture Salon.
What do you like about Mayfair?
Mayfair is one of the most prestigious districts in London that houses as well important galleries. It is the ideal neighbourhood to live in and with this four storey building in this area, it is a perfect setup. We are also considering another flagship store in a retail district such as Knightsbridge.
When you're in London, where do you like to go?
London is a city that fascinates me. It is very inspiring from the artistic and cultural perspectives and very rich and diverse on the human side. When I am not in the store for appointments, I would like to visit the latest museums, attend different shows in theatres and discover special dining places.
What's the best piece of advice you can give young designers in Lebanon or elsewhere?
I encourage everyone with talent to pursue a career in fashion design, as it can be a great one, but requires a lot of hard work and perseverance, and of course a lot of patience. What makes the difference is the identity you create for yourself, backed up with talent and clear vision.
Elie Saab's couture spring summer 2017 inspiration:
"For the Couture SS 17, I paid tribute to an Arab epoch that left us with a priceless cultural and artistic heritage. From its great Nile, Egypt has been a source of light, inspiration and richness for civilizations; a guardian of Arab memory."
Elie Saab's ready-to-wear autumn winter 2017/2018 inspiration:
"For the RTW AW 2017/2018, it was inspired by one of ballet's most iconic scores, Giselle, with its tale of human love crossing into the supernatural realm; a seasonal return to dark romanticism."
How the Bridal collections are approached in comparison to Haute Couture and ready-to-wear?
"Bridal gowns are worn to the most special occasion in woman's life and I have always enjoyed to share this unforgettable moment with the bride to be. We aim to be closer to all brides who aspire to wear ELIE SAAB gowns. Since its launch a year ago, the Bridal continues its ready-to-wear interpretation for the contemporary bride as a compliment to the House's established Haute Couture and Ready-to-wear collections."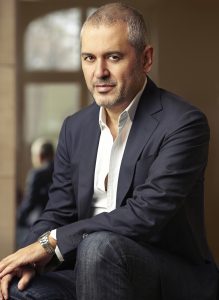 Elie Saab by Oleg Covian