Iran: reframed
Mohammed Afkhami wants to change opinions on Iranian art. The financier lifts the lid on his astounding collection
Dubbed the 'high rise collector' for his astonishing collection of art in his Dubai apartment alone, Iranian collector and financier Mohammed Afkhami's love of art is deep rooted.
The first book on his Iranian collection, Honar: The Afkhami Collection of Modern and Contemporary Iranian Art, offers an unparalleled look at the finest contemporary Iranian art being made by artists working within Iran and in the West.
Sumptuously designed and carefully curated, the vibrant volume features over two hundred contemporary artworks and a small selection of precious medieval and early modern material.
The book includes a joint essay by Venetia Porter, the assistant keeper of Islamic and contemporary Middle Eastern art at the British Museum in L, and Sussan Babaie, lecturer in the arts of Iran and Islam at London's Courtauld Institute of Art.
Their thesis delves into Afkhami's family history, highlighting that his paternal great-grandmother, Effat al-Muluk Khwajeh Nouri, was the first female artist in Iran to set up a private painting school for girls. And his maternal grandfather, Mohammad Ali Massoudi, compiled one of the most significant private collections of calligraphy in Iran (some examples were exhibited in 1978 at the Reza Abbasi Museum in Tehran, founded in 1977 under the auspices of Queen Farah Pahlavi).
"It's a very personal, family collection. Each member of the family iterated across Iran's long history of art. My grandmother is much more into Islamic art, antiquities, that stems back thousands of years until the early part of the century. My mother is the link between her and me, I'm into more recent art, say post 1950s onwards," Mohammed explains when I meet him at Browns Hotel.
"My family, on my father's side were all artists. My great grandmother was the founder of the first modern institute of art for women only. Interestingly, all the people from her line – her, my grandmother, my uncles, my father, all could paint and draw. I sort of substituted the paintbrush with the Financial Times when I was three, I don't know what happened there, but it's interesting that everyone had an ability to make art, I'm sure it's genetic."
Truly a global citizen, Mohammed was born in Switzerland in 1974 to Iranian parents, and spend his early childhood in Tehran. Following the revolution in 1979, his mother left her homeland and settled in Europe. Mohammed grew up in London and Switzerland before attending the University of Pennsylvania. Today, he divides his time between New York, Dubai and Switzerland. He's in London to speak to potential property investors, but will be heading off again soon. He also has a wedding to plan.
He began buying art in 2004.
"I went to Iran, I was there on a visit and I had to stay a few weeks longer than I anticipated so I had some time to kill. I thought, lets go and explore this place culturally. A good friend of mine said you should go check out this emerging contemporary art scene and I was like, absolutely. I had no notions, preconceptions. I went and stumbled into a few galleries that had some amazing art work, beautiful, and remarkably affordable," he explains.
He began to collect, meet the artists, often buying directly from them as many were not represented.
"Then of course, as the market started to mature, the auction houses in 06-08 where suddenly you had a dedicated sale for modern and contemporary middle eastern art by Sotheby's, Christie's, Bonhams, even Phillips started putting some middle eastern works in its contemporary art sale. With that, and the expansion of galleries in places like Dubai – there were probably three galleries there in the early 2000's, now there are around 60-70. The majority are focusing on regional art."
He started at a good time, with Iranian art gaining pace in the market. Mohammed's collectin style was "fast and furious" at the beginning, he smiles.
"It wasn't really about price either. The old saying, you can't really be a collector if you don't have some wealth behind you, it's just not true. If I look at my first 30-40 works, they were attainable to anybody who had a reasonably salary. You don't have to be a finance guy to buy art. Now it's a bit different, if you wanna get certain best works, you probably need to invest a bit more, and that makes it more of a reach. But, comparative to Western art works, if you're buying the greatest Iranian artist compared to the greatest Western artist, I mean with the greatest Western artist you could buy commercial buildings in London for the price of the paintings, while in the Middle East they're still 100th of the price, but in my view, no less in quality or aesthetic."
Mohammed's collection of around 400 mainly Iranian contemporary works includes artists such as Mohammad Ehsai, Shirin Neshat, Shiva Ahmadi and Timo Nasseri.
"You've seen the book, you will find something you will like, it's so diverse. You see works that are abstract, works that are more political, some that are very mystic, you seen every type of medium. There's no medium they haven't done something in. It's good because it shows a very different side to Iran, and, you know, I am of the view that it's important to reframe the image of a place that really doesn't have a good PR machine behind it. I think when you try to discuss political differences, it's very difficult to get people to come to the middle. But art is one where you can have less conflict and more agreement. We can both agree that an artwork is beautiful."
Since collecting and getting to know artists Mohammed as become a kind of representative for the field, and agrees that it's a challenging time for Iranian artists.
"The main challenge, 99.9 per cent of artists locally are struggling to make ends meet. It's perverse because on the other hand you have some of the most branded icons of contemporary culture who are artists – Jeff Koons, Damian Hurst – and they're doing fabulously well, especially for living artists, when you think about some of the greatest artists who died in poverty, and then now their works are priceless. The main challenge is that Iranian artists didn't have that access abroad and they certainly had no patronage that would allow them to get there. When I started collecting, I didn't have any visions of helping artists, it just became an accidental biproduct of buying art work. Then it became a sort of responsibility that just came with collecting.
The most meteroric rise that Mohammed has seen is Farhad Moshiri.
"I remember seeing one of his first shows in Dubai. It was a friend of mine, Maliha al Tabari, who runs a gallery called Art Space, one of the first galleries in Dubai, and she had a show of oil on canvas with antiquity-looking pots. I remember, they were like $1,500, the maximum some of them sold for were a couple a hundred thousand. Now, they still sell regularly over $100,000. That's an enormous price increase, from 2004 – 2008."
Then you had more established stallwarts like Shirin Neshat, who was already toast of the arts community in New York, represented by dealer Barbara Gladstone.
"Her works went up. I would say she probably has more non-Middle Eastern collectors than Middle Eastern collectors. Her work is appreciated everywhere. She's honoured by having retrospectives all over the world, but the one that I thought, wow, was the Hirshhorn Museum [and Sculpture Garden, in Washington DC in 2015], the whole museum for her and all the great and the good came to honour her."
Is Neshat a sign of Middle Eastern art's expanding collector base?
"Middle Eastern art is majority consumed by Middle Eastern collectors, but I think the big change in the last ten years has been that it has started to find its way into very recgonisable collections. I think that trend will only continue," Mohammed asserts.
London has been open to Middle Eastern art, with dealers such as Sophia Contemporary open up in recent years. Mohammed has found London "more progressive" than the US.
"I found Europe was quicker to adopt [than the US]. In London, Sotheby's and Bonhams have Middle Eastern dedicated sales, you don't see that in the States. The community is more here," says Mohammed.
Rev. Paul-Gordon Chandler, Founding President of CARAVAN Arts, is launching I AM, an exhibition featuring 31 acclaimed Middle Eastern women contemporary artists from 12 countries, in Trafalgar Square this month.
The show opened its global tour on May 3 in Amman, Jordan under the patronage of Her Majesty Queen Rania Al Abdullah at the National Gallery of Fine Arts. Designed to address stereotypes and change misconceptions of the "other," the I AM exhibition visually celebrates the rich, diverse and crucial contributions that Middle Eastern women make to the enduring global quest for harmony and peace; highlighting the unique role that Middle Eastern women play as guardians of peace, celebrating their strengths and contributions in this area.
Chandler says: "Art generally in the Middle East has changed most noticeably over the last 15 years – the way it is perceived, produced, sold and collected. There are now ever-increasing numbers of accomplished emerging contemporary artists coming to the notice of the local and global markets and a fair percentage are women. Being an artist wasn't really thought of as a serious profession previously but now that is changing and there is a growing appreciation for the expressive aspect of art; as a reflection of today's society and as a force for change. The Middle East is also increasingly becoming a very important hub for large auction art houses, collectors and art institutions – it is a vibrant environment offering a different edge and the opportunity for dialogue and new friendships."
I AM is at St Martin-in-the-Fields, Trafalgar Square, until August 20, before touring through the US.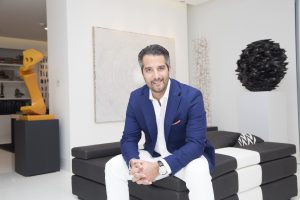 Mohammed Afkhami