Here comes the bride
Former Brides staffer and recent newlywed Cally Squires explains why you should head to Belgravia for all your wedding needs
The Hair: Errol Douglas
Master stylist Errol Douglas MBE was on hand to style the models who walked down the bridal runway at Brides magazine's weddings showcase at The Lanesborough earlier this year.
Gorgeous bridal hair isn't just about styling on the day though. Errol reccomends clients to book in for a consultation six months in advance to discuss getting hair in wedding-ready condition. Brides may need smoothing treatments (from £50), conditioning treatments (£30), extensions (from £200) and will also need to consider the all-important cut which will work best for their chosen bridal look.
Errol will try out multiple looks in your wedding trial, so remember to bring pictures of the dress, veil and jewellery. Consider switching up your hair for a different evening look – for instance adding fresh flowers – especially if changing your dress too. Bridal hair packages are POA. Errol Douglas, 18 Motcomb Street.
The Flowers: Neill Strain Floral Couture
Florist Neill Strain is an expert when it comes to glamorous wedding and event flowers.
"What I love most about wedding flowers is creating designs that reflect the individuality of the bride. Getting to know the personality of the bride and expressing her style and emotions with flowers is always inspirational" says Neill.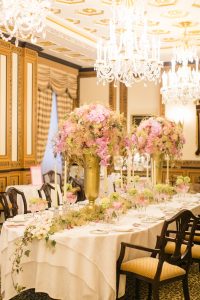 Brides making an appointment to see Neill and his team on West Halkin Street can expect to be grilled on every detail of their day, in order to make sure the flowers match absolutely perfectly with the bridal gown, the bridesmaids' dresses, the groom's outfit, the colour scheme of the venue, the bride's hairstyle – every aspect is taken into account!
Even after the wedding the team at Neill Strain have some great ideas up their sleeves. Brides can consider having a replica bouquet made if they want their fresh flowers preserved, or Neill can even have an identical posy made with artificial blooms, which brides can display at home forever.
Prices for bridal bouquets start from £150. Ceremony and reception flowers are POA.
The cake: Peggy Porschen
Brides-to-be can order layer cakes in the Peggy Porschen Parlour in classic flavours like Glorious Victoria, red velvet, salted caramel, vanilla and strawberry and champagne – a fun alternative to a traditional iced fruitcake.
More adventurous brides or members of the bridal party can take a four-day Tiered Wedding Cakes course at the Peggy Porschen Academy at 30, Elizabeth Street.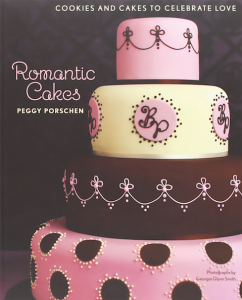 The academy course is taught by Peggy or one of her team and teaches bakers the principles of assembling and decorating a stacked wedding cake. Students will learn how to ice the cake in sugar paste, stack the tiers with dowels and decorate the finished product with techniques including bead piping, handcrafted sugar flowers, lace stencilling and over-piping with royal icing.
Students completing the module will receive a certificate and be able to take their four-tiered creation home. The course costs £895 and in 2017 will be commencing on August 14, November 6 and December 11.
DIY brides can also pick up a copy of Peggy's Romantic Cakes book (£12.99) which has recipes and inspiration for biscuits and cakes for favours, hen do's and bridesmaids' gifts.
Peggy Porschen, 116 Ebury Street
The groom: Daniel Galvin Jr
Daniel Galvin Jr is not only about to launch his second salon at The Lanesborough in August, the colourist is also now offering a traditional wet shave service for grooms and their ushers on the big day.
"As you know it's mainly about the bride on the wedding day, so to help calm the groom and give him a bit of pampering and focus ready for the day ahead we are offering celebrity barber Daniel Rouah to deliver bespoke men's
grooming" says Galvin Jr.
The traditional shaving service with hot towels will use Daniel Galvin Jr's signature Highgrove range of botanical products like the 100 per cent organic post-shave oil and 72 per cent organic pre-shave cream.
Grooms can book a cut-throat razor shave for themselves and four ushers, either at Daniel's West Halkin Street salon or at The Lanesborough, for £1,200.
Daniel Galvin Jr, 4 West Halkin Street
Read more in the August issue of Belgravia Magazine…